A Letter From Our Pastor
I want to invite you, along with everyone at Redemption Church, to go on a journey. This guide book is your road map and journal for this great adventure that we're calling Multiply. God has done so much in and through Redemption over the past several years, preparing us for this next season. We know that He has big plans for us as we boldly walk into the future together!
There are more than 500,000 people in Southeast Texas, many of whom have yet to experience life-change through Jesus. We have a city to reach for the name of Jesus! This is a defining moment in the life of our church.
Multiply is our opportunity to rally around our mission and vision like never before. I believe this is a time in the life of our church that we will all look back on with great joy and remember how God used it to change us for the better. I can't wait to go on this Multiply journey with you!
That Southeast Texas Will Experience Life-Change Through Jesus,
Byron and Ashley Ellis
Through Multiply, we will continue to support our existing ministry to kids, students, adults, and families by providing opportunities to learn, worship, serve, and connect with others. We believe our church will have an even greater impact on our community by helping even more people experience life-change through Jesus
A major part of Multiply is expanding Redemption from one location to two locations, beginning with our new facility God has entrusted to us in Beaumont. We will create a fantastic and secure kids space where there's room to grow! We will maximize the lobby, enhance the worship experience, and raise our community awareness by updating the exterior of the building and fixing the parking lot. Setting us up to launch a second Redemption location within 5 years.
Through Multiply, we will also continue to support our local and global missionaries and church planting partners to accomplish our vision that all would know Jesus. We will partner with The Church Multiplication Network, Assemblies of God World Missions, and our local and global outreach partners to continue to spread the gospel.
ONE FUND INITIATIVE
You may have been part of church campaigns in the past where you were asked to give a second gift "above and beyond" your usual gifts to complete special projects. Normally, you gave that gift to the "Building Fund" and you also continued to give to the "General Fund." This type of giving is potentially confusing to people who either don't have a baseline for their "usual giving" or who aren't able to really celebrate the total giving at Redemption Church in one single number.
ONE MISSION
We believe we're all on ONE MISSION-to love people to a growing relationship with Jesus. The Multiply Generosity Initiative will last two years. In those two years, every gift given to Redemption will go to the Multiply Initiative-to help us reach our church, our city, and our world. We've included a sample commitment card so you can see how a "one fund initiative" works. Please take the time to look it over so you have an idea of what you will do. We will provide commitment cards on Commitment Sunday, February 5th.
WHAT'S NEXT?
We are asking you to go on a spiritual journey with God and take the biggest step of generosity you've ever taken as we move forward together to accomplish God's task for us through Multiply
HOW WILL YOU RESPOND?
Pray that God would multiply our efforts in loving people to a growing relationship with Jesus. Pray that He would do abundantly more than we ask or imagine
Help us reach our goal of 100% engagement through Multiply. Journey alongside your church family. Commit to do what God asks. Make plans now to support the vision by committing to being at services from February 5th through March 5th.
Help us carry the weight of this vision.
Join in and help with renovations at our new church buildings. Be a friendly face on Sundays as we welcome new people into our church. Give your time and talents to where God is calling you to make an impact. Your serving makes a difference in people's lives every week.
Ask God to show you what it looks like to give in a way that changes you, and take whatever steps are required to see it through. Make plans to join us on commitment Sunday, March 5th, 2023, when we all present our commitments together.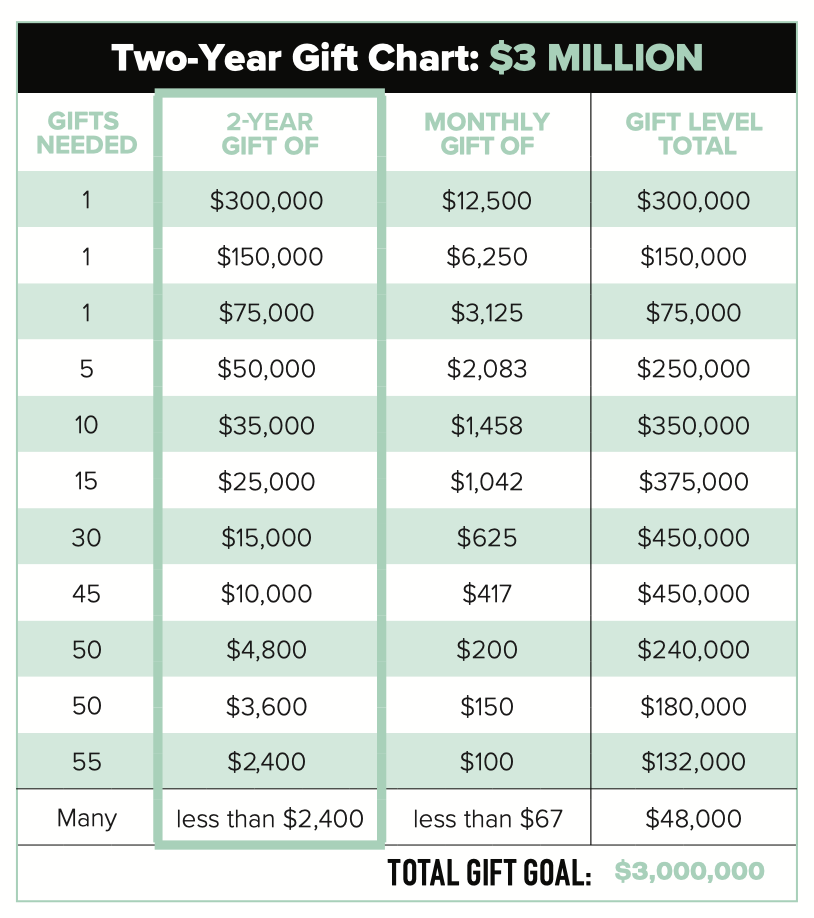 Your Generosity Guidebook
Looking to get involved with Multiply? Our guide book has all the information you need to get started. Learn how to participate in this unique opportunity to change the world. Multiply is a unique opportunity that allows people from all walks of life to get involved and make a difference.
Join Us
We want you to join us on a spiritual journey with God and take a big leap of generosity! We're moving forward together to achieve God's mission through Multiply, and we need your help. Let's take this exciting step together!